December 4th, 2008 by neil
I thought I'd better report in from Online Educa in Berlin, where the Web2Rights team have been presenting the IPR toolkit and showing the just released Web2Rights video.
It's been a busy week for publicity, the Guardian published a full page article about the Web2Rights project in it's Digital Student supplement. JISC also released the Web2Rights video, this has really made an impact at Online Educa and every time I go to the JISC stand I see someone watching it on the kiosk displays
We had two sessions at Online Educa today.
I was doing a demonstration of the toolkit at the JISC stand, and this was followed by Derek Stephens running an hour long session of a presentation of the project and a Q&A session.

Web2Rights on the JISC stand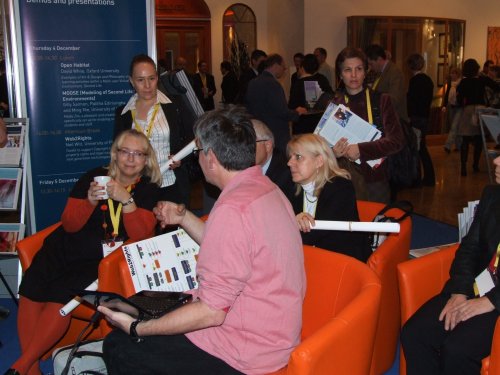 Posters going like hotcakes

Derek showing the toolkit

Neil and Derek face the audience of 50 IPR participants

The theme that came from both sessions was that a Web2rights approach would be applicable to a number of European countries and that there are plenty of people wanting to take the toolkit further. We has offers of support for this from Norway, the Netherlands and Germany.
The enthusiasm the particpants had for IPR and the great feedback we had on the toolkit was great (and somewhat unexpected), we gave out 100 IPR posters and it looks like the discussions will be continuing for sometime.
September 10th, 2008 by neil
The Web2Rights team will be holding a Web2.0 and Legal Issues Workshop at Birbeck College, London on the 13th October for projects funded by the JISC funded Users and Innovation Progamme.
In order to help us to scope out some of the broader legal issues that projects have/or may be encountering we would be most grateful if projects could spend just a few minutes to complete our questionnaire, which can be found at
http://www.surveymonkey.com/s.aspx?sm=_2brGpOOpqfdrG98Oae2k6wQ_3d_3d
The questionnaire should not take more than about 5 minutes or so to complete and will help us enormously to develop tools to respond to any needs and requirements that projects may have, as well as provide information about how best we should shape our forth coming Web2.0 and Legal Issues workshop.
August 22nd, 2008 by Naomi Korn
We are thrilled that the Web2Rights project has just been extended for a further 9 months (running until end of March 2008). During this time, we will be enhancing our current IPR toolkit as well as creating a legal toolkit. The legal toolkit will address other legal issues arising from interaction with next generation technologies, using a similar approach to our IPR work (i.e. diagnostic tools, interactives etc) by harnassing the use of Web2.0 to provide pathways to the resources that we have created.
 Whilst our primary audience will continue to be the projects funded under JISC's U&I strand, like the IPR work, we anticipate that our project outputs will also have a much broader audience. To this extent, we are delighted to be working with JISC Legal to ensure the long term sustainability of our outputs.
 We have scheduled in a legal issues workshop for U&I projects on 13th October in London. Please contact me if you are interested in attending.
BTW  - you can also find us presenting at the Educa Conference in Berlin 3-5 December 2008!
Naomi
June 20th, 2008 by Naomi Korn
After an enormous amount of team effort, we are really proud that our IP Toolkit went live on our website today.
There are several ways of working with the IP resources that we have created including:
 1) Downloading each resource as required
2) Downloading zipped packages
3) Using our IP flowchart to find out what is needed and when
4) Using our IP Diagnostic Tool to work out the problem and suggest possible solutions.
We are delighted that our project has been extended for another 9 months so that we can develop our resources further (including the interactive elements) and also build up resources that deal with other legal issues encountered within a Web2.0 environment.
Catch us at the JISC Joint Programme Meeting at Keele on 15th and 16th July when we will be handing out some free A2 sized laminated wall charts of our IP Flowchart.
Naomi 
March 7th, 2008 by Naomi Korn
With a month to go, we've put together a dynamic programme for the second of our Web2.0 and IP Focus Group Meeting which will be held in Leeds on Monday 7 April. The meeting is open to  projects currently funded under JISC's User and Innovation Programme who are engaging with next generation technologies.
The intentions of the meeting are to enable project representatives to:
Become familiar with the broad copyright and other related IP
issues that might affect your project
Engage with possible solutions and develop strategies to deal
with the issues that may arise
Encounter the resources available through the JISC funded
Web2Rights project to support Werb2.0 and IP engagement
Flag up to the Web2Rights team the need for the development of other resources that your
project may need
Test run the new Web2Rights website functionality
Raise issues and questions that you may have surrounding IP
issues and copyright
Network with other projects who may be encountering similar
issues

Programme:
11:00  - 11:15 Arrival, Tea and Coffee
11:15 - 11:30 Welcome and Introductions
11:30 - 12:00 Web2.0 and IP Overview for U& I projects - arising issues,
developing strategies and risk management (NK)
12:00 - 12:10 Discussion
12:10  - 12:20 Demo of Web2Rights site (NW)
12:20 - 12.40 Group discussion about resources available and additional
needs
12:30 - 1:00 General Discussion
1:00 - 1:45 Lunch
1:45 - 2.45 IP Surgery: Questions and Answers
2.45 - 3.00 Concluding remarks and next steps
 
Places are filling up fast, so please drop me an email to reserve a place
Thanks
Naomi